The exposition "Reveal to me, the Gauja, the story of Valmiera!" was opened on 16 May 2009. Wax figures, animal casts and educational materials give a testimony of the history of Valmiera as a developed medieval city up to the end of the 18th century. The exposition provides time travelling – from the earliest times in archaeology and ethnography to recent times. It ends at the end of the 18th century with a view of the picture of Valmiera by Johann Brotze that symbolically ends an important period in the city's history – Valmiera starts recovering after devastating wars. Archaeological items – medieval weapons, a knight, a map of Livonia – are placed in the vitrines. Valmiera Castle and Peka Hill, an ancient Latgallian house, a Hanseatic merchant's boat can be seen. At that time, the people of Valmiera were not only warriors but also skilful craftsmen.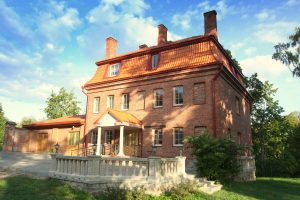 Foto: Viktors Tjarve
Old Pharmacy – in the oldest wooden building of Valmiera can be seen part 2 "Valmiera – the city of district and region" and "Farmstead" of a permanent exposition "Tell me, the Gauja, the story of Valmiera", created in 2008. The exhibition closed due to reconstruction.
The Old Pharmacy built in 1735 on the Valmiera castle ruins, which were destroyed during the Northern War in 1702. Till the 21th century it was supplemented with masonry and wooden annexes, forming a 4 building complex. In 1755 a doctor J.V. Reihenavs sat up a pharmacy. In 1912 the government of Valmiera bought this property as the first government`s pharmacy in the Baltic region. It was up to the year 1965. After restoration (1995) in the rooms of pharmacy was arranged the R.V. Vītols exhibition hall.
On the second floor –  there can be seen a chimney.