We offer you to attend traditional, annual events of the Museum:
Simjūds (St. Simon's Day's annual fair)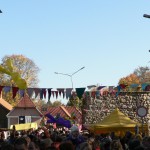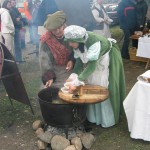 In his book "Boys of Valmiera" Pāvils Rozītis wrote, "If you have not seen Simjūds Market, you have not had your youth." Simjūds Market was the largest annual fair in Northern Vidzeme by 1940. It got its name on 28 October 1283, when the foundation of Valmiera Church was laid on St. Simon's Day..
The first re-enlivened market was held on 26 October 1996. Dances, songs, ancient costumes, demonstrations of skilled craftsmen, and the market hubbub reign once again in Valmiera each year on the second Saturday of October.
International Museum Day – Night of Museums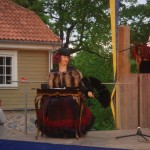 International Museum Day is celebrated worldwide every year in the middle of May. Its origins date back in 1977, when the ICOM (International Council of Museums) established such a tradition. The goal of the idea – in accordance with the possibilities provided by the traditions and upcoming events, to hold special events, promotions, to open exhibitions, expositions, to allow free of charge attendance to the museum.
Night of Museums  is an international, European-scale event which takes place at the same time in museums of almost all the European states. Since 2005, on the second Saturday of May, there are various activities in Valmiera Museum during "Museum Night" – exhibitions, workshops, night concerts, theatrical performances.
Annual celebrations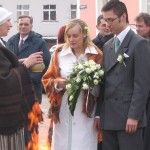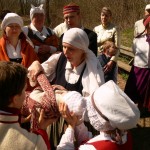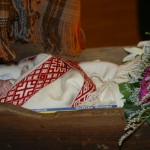 Each year, when Summer Solstice, Christmas, St. Martin's Day and Easter are celebrated, all of us should learn how to get to know and find a dialogue with folk traditions. We celebrate them by singing, dancing, learning folk-beliefs and customs, by performing rites and playing games which have their own meaning in each Solstice. We celebrate St. Martin's Day in November, but why does mummery, mask making, the chanting of cheerful songs and playing games start exactly on this day? Why do we make bonfires each Summer Solstice, why do we dip pewter and drag a log around a house each Christmas? How high should one swing at Easter and how to colour eggs, why should you make a wreath from lots of herbs on Midsummer day? You will find out when attending and participating in our annual celebration rites.
Different School
Every year on the first day of school is organized attractive lessons with interactive hustle for pupils and for their parents in the yard of the museum. In an interesting way of lessons children and their parents can encrypt the texts, solve different exercises of Maths and Logics, search for the lost figures in panes, work with a salt dough creating figures, recognize different musical instruments, their names and walk on the feet of giant. Lessons are judged by director of school. Pupils receive useful and sweet prizes.
Market of Valmiera city festival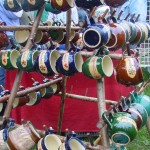 Each year as an integral part of city's holiday has become a craft and domestic producer market with a historical part of a market "Life in an ancient city", which is organized by Museum of Valmiera. Ancient workshops of craftsmen, medieval playground, knight school, garden of domestic animals… Sound of medieval music, bread is baking, flour is milling, hammers of blacksmith are chiming. Merchants offer goods. In order to fit in the lifestyle of medieval city dwellers, you can get dressed in ancient costumes, take part in the ancient school, in order to learn the basics of writing or to learn medieval dances.
Christmas market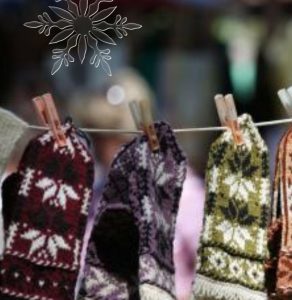 One week before Christmas, craftsmen and domestic producers offer gifts for each taste – warm gloves, socks, ornaments, weaved baskets and wooden spoons, leather gloves or new purse, wax candles, also home-made wine, pot with honey or real rural brown brad, healthy dried berries and more other things. It is a chance to buy the most suitable gift for Christmas for everyone. The ones who are cold, warm up oneself at the big solstice fire. Together we realize the most important Latvian rituals of the Winter Solstice.